OVERVIEW

The amount of data that businesses and individuals need to process on a daily basis is growing exponentially every year. The increasing and ever-changing requirements for the protection of sensitive information, new government regulations, limits on storage capacity, safeguarding of intellectual property and a global workforce all present new challenges to individuals and companies alike.
WinRAR products provide individuals, businesses, government agencies and many other industries with the perfect solution for sharing and storing data in a safe and secure way.
FEATURES
Compression – WinRAR products are considered the best and fastest compression tools on the market. RAR or Zip your files, to protect, organize and share them safely and securely.
Encryption – Military-grade AES 256-bit encryption technology that password protects archives including all metadata.
RAR Files – WinRAR is the only software that can create RAR archives and offers a number of advanced features such as multivolume archives, tight compression and a recovery record.
Password Manager – Integrated password manager assists in keeping track of difficult and hard to remember passwords for password protected archives.
Perpetual License – Perpetual license model, valid for a lifetime. No subscription.
Recovery Record – WinRAR products are designed to recover damaged files.
Split Archives – Split archives into smaller, more manageable files.
Backup – Advanced backup options, time-stamped files and previous file version retention.
Drag-and-drop – Fully supported drag-and-drop functionality.
Language Version – WinRAR products are available in over 40 languages.
Virus Scan – Built-in virus scanner prevents corrupted archives from being unpacked.
Multivolume Archives – Complete support for multivolume archives and the creation of self-extracting (SFX) archives.
Unicode – Supports Unicode file names.
Compliance – Admin controls allow complete control over passwords, prevents accidental modification of archives and protects data.
OVERVIEW

WinRAR products for Linux & Mac are only available in the Command Line version.
Command line is a text interface for your computer that takes commands and passes them on to your computer's operating system. It is fully text-based.
FEATURES
Commands – Full list of commands is available in the WinRAR Help menu.
Archiving – Compress and store files in RAR archives to save space. Archives can be encrypted, keeping them safe and secure.
Complete Support – WinRAR products support all .rar and .zip archive files and works with most other popular file types, including CAB, ARJ, GZ, TAR, ACR, JAR, ISO, 7Z, XZ, and many, many more.
Solid Archiving – Raises the compression rate by 10-50%, especially when packing a large number of small files.
Recovery & Repair – Recovery and repair physically damaged archives.
SYSTEM REQUIREMENTS
RAR for Linux & Mac is compatible with:
MacOS – Command Line Only
Linux – Command Line Only
FreeBSD – Command Line Only
OVERVIEW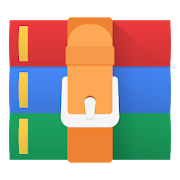 RARLAB's original program for compression, archiving, extracting and so much more. A free program, with a paid ad-free option.
SCREENSHOTS
1 / 14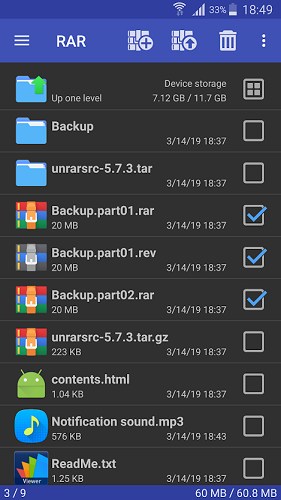 RAR - Select archives
2 / 14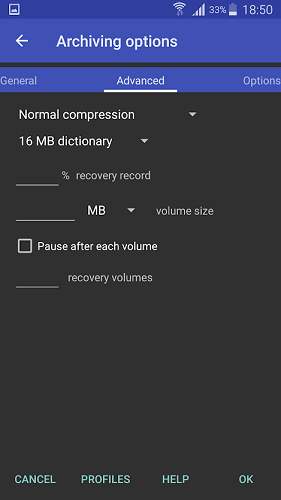 RAR - Archiving options - Advanced
3 / 14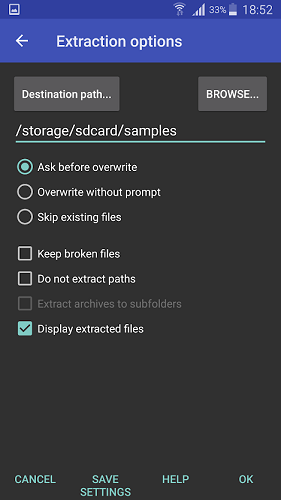 RAR - Extraction options
4 / 14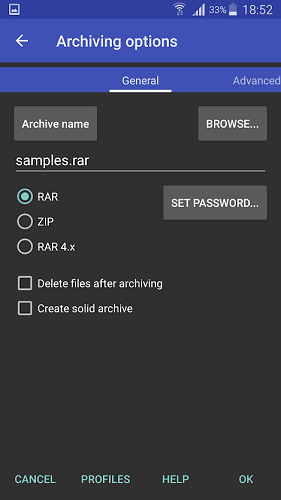 RAR - Archiving options - General
5 / 14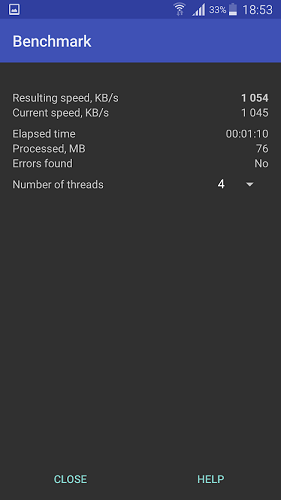 RAR - Benchmark
6 / 14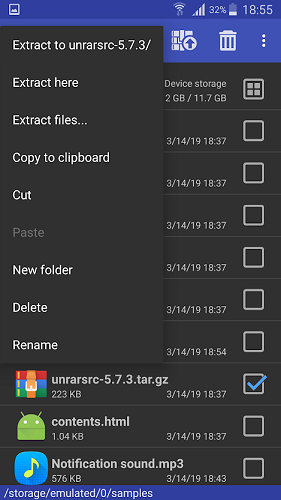 RAR - Extract options
7 / 14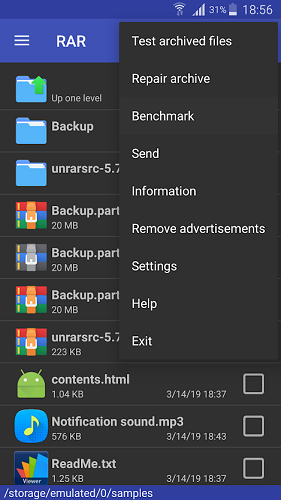 RAR - Menu
8 / 14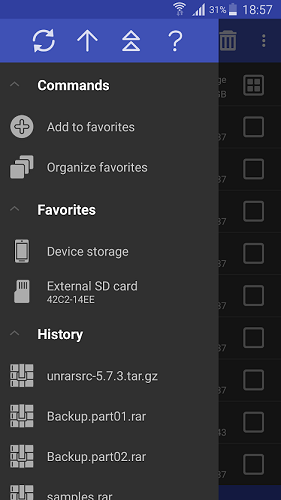 RAR - Menu Commands, Favorites, History
9 / 14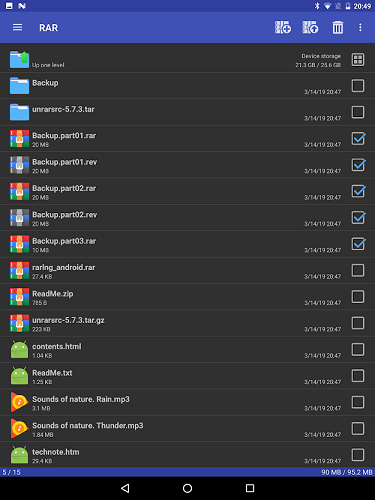 RAR on Tablet - Select archives
10 / 14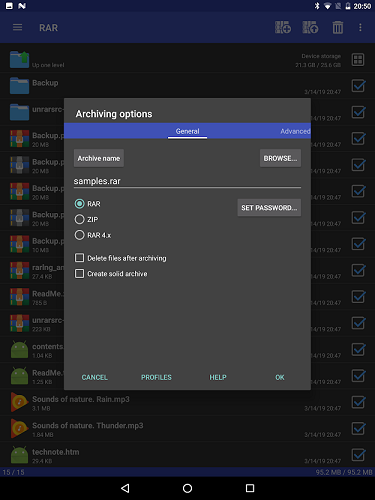 RAR on Tablet - Archiving options - General
11 / 14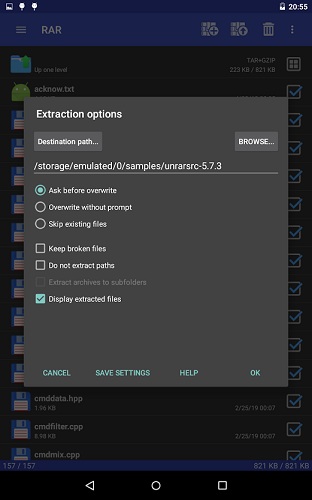 RAR on Tablet - Extraction options
12 / 14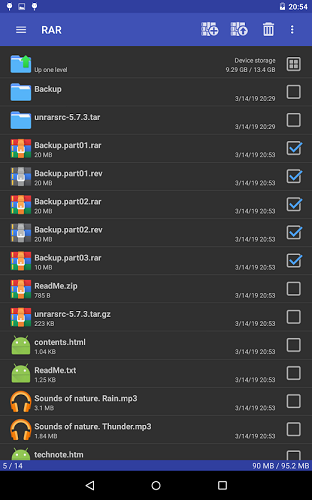 RAR on Tablet - Select Backup archive parts
13 / 14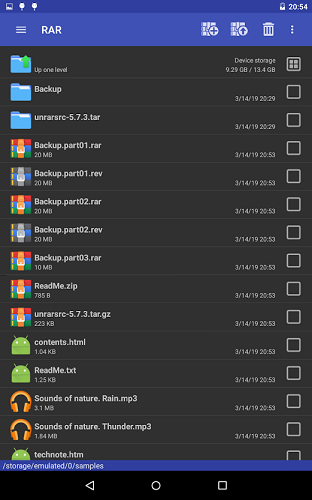 RAR on Tablet - Android GUI
14 / 14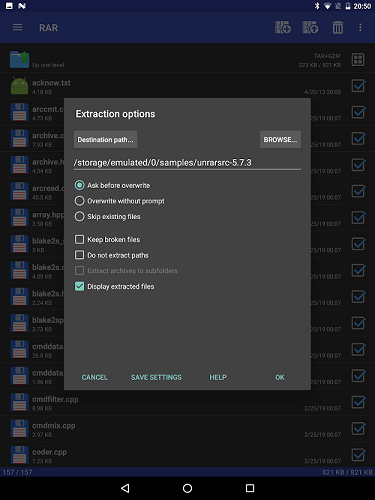 RAR on Tablet - Extraction options
❮
❯
FEATURES
File & Archive Support – Creates and unpacks ZIP, RAR and almost all other popular types of files and archives.
Create Multivolume Archives – Ability to create multivolume archives making it easier to store and send large amounts of data.
Compression Levels – WinRAR products provide six different levels of compression, and are available for different types of files.
Repair Tool – Can effectively repair damaged archives.
Favourites – New folders can be added to favourites for quick access.
Speed – Highest compression speed.
User Manual – Included with the app for quick help.
Delete Function – Automatically deletes all compressed files.
Password Protection – Add passwords to archives, securing them with AES 256-bit encryption.